Lecturer: Ian Massey
In this weeks illustration weekly briefing, the focus was on
Illustration and Text:
the integration of image and words.
Sara Fanelli
I was particularly inspired by one artist which was given as an example, Sara Fanelli, whose work I have viewed before. Her main techniques include collage with old, decorative paper which often incorporates text.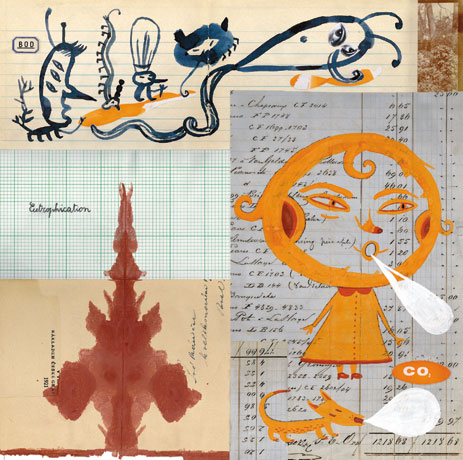 Magazine Illustration
I love Fanelli's use of mixed media to create interesting, unique imagery. This gave the idea to use collage in my own work, perhaps using text and numbers to relate to my own project involving association with numbers. On the other hand, as I wish to create a pack of playing cards, I could use numbers written as words to include a text element in my work.
Oliver Jeffers
Jeffers' editorial design and sketchbook work also intrigued me with the element of humour and quirky illustrations.
I noticed that in both Jeffers' and Fanelli's work, the text element has always got a sense that is has been handwritten. This makes their work more authentic and original, giving a sense of personal style. The imagery and text work together in an informal manner, never seeming to be too neat and careful. This gives the artists work a more individual quality and made me realise that illustration doesn't need to be completely perfect to be successful.
Later on I explored the idea of text and illustration through contextualising an illustration by placing it within a magazine article with text along side it. I feel that this kind of integrating text gives the illustration a sense of purpose, where an individual illustration might struggle to offer without this element. I used InDeisgn to create this finished visual which can be seen on another blog post
'Mock Up of 48 Hour Brief'
. Take a look.